So, this is how it started: Last year when Hurricane Wilma hit, one of the trees that came down in our park was a Mahogany tree. Instead of putting it through the chopper like the other debris, Chad drug it over by our house, where it had been 'curing' for the past year. All the bark fell off on its own. He finally decided that he wanted to make an Adirondack chair, so he got a pattern, and went to work on the log.

Here's how it started. He cut it into rough planks with a chainsaw. We didn't have the means (or a place to take it!) to get the log to a mill and cut into planks...not to mention the outrageous expense we would have had to absorb!



He then cut the pieces roughly to size and planed them down into boards.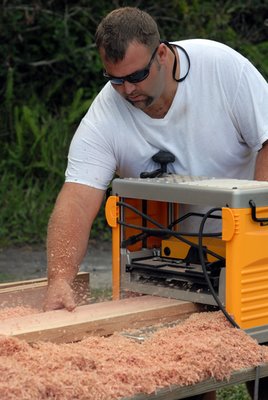 He cut out all the pieces, sanded them smooth, and applied Tung Oil to everything. This stuff is awesome, because it brings out the grain in the wood.



And here's the finished product! Isn't it gorgeous? It's so comfortable, too. Chad is going to make another one out of Cedar. I'm loving this awesome stuff he's making!



Now I need to get to work on a scrapbook page about this...you will be seeing a very rare multi-photo layout (POSSIBLY even 2-page!) from me in the very near future.