Chad and I went up to Port Charlotte on Saturday to spend the day with his parents. His mom took me to the scrapbook store that they have nearby....wow. She has a NICE one up there! Anyways, as we were checking out, I was asking how they liked the Cutterpede, as I am becoming less than thrilled with my current trimmer. The ladies proceeded to tell us about the Limited Edition PINK Cutterpede they are taking names for. I had heard about this, but didn't really want to pay $75 for it. Marty (MIL) put her name on the list for one....then asked if I'd be happy with this for Christmas. Heck yes! So, I have to forget she's ordering it, and act surprised when I open it. Hehe. Here's how it comes: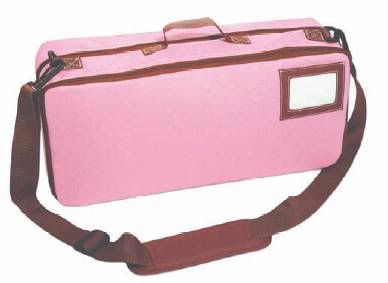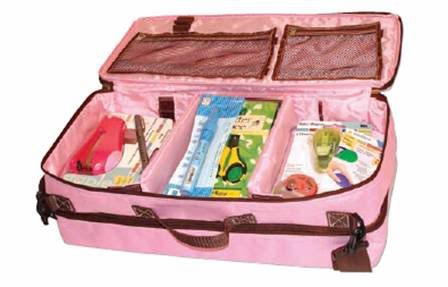 Bag Features:
-ID pocket
-Carry handle and removable shoulder strap
-Loops hold pen securely in place
-2 removable mesh pouches
-2 adjustable dividers
-1 large mesh pouch
-Straps to hold Cutterpede in place

Includes:
-Tool Bag
-NEW Pink Cutterpede Paper Trimmer w/ blade
-Cutterpede Score Blade
-Cutter Bee Scissors
-Archival Zig Millennium Black .05 Pen
-Zig 2-Way Glue Chisel Tip wet glue
-Herma Glue Star Removable Adhesive dry glue
-CornerAdorner Medium Rounder Punch
-Pink Fastenater Mini & 48 Silver Staple Bars

Marty also bought me the Freestyle book and a white Staz-on ink pad with inker for my birthday since it's coming up next week (the big 2-6!). I got a few of the new MME papers (Bohemia and Signature Studio), some Bazzill, Plain Janes chipboard arrows, the Rebecca Sower photo corner punch, solvent ink cleaner, Bazzil chipboard flowers, and a few packages of Bazzill big polka-dot brads.

Then, yesterday, Chad and I went out to get the paint for my Craft Room. I'm currently in the smaller, front bedroom, but I'm moving to the larger back one. The Guest Room hardly ever gets used, so it'll be fine having it in the smaller room. I'm not going to invest in cabinets for this house, but when we get somewhere we're planning to be for a long time, I'll go that route then. For now, my tables and sterilite drawers are perfectly fine. In this room, I'll have space to add a comfy chair (which is already in that room), a sewing table, and a couple Pantry-type cabinets from Target.

I decided to go with a yellow. I wanted something happy and cheery, plus true yellows stimulate mental activity and promote creativity. I was originally going to go with a more buttery color, but I saw this picture in the paint sample brochure, and loved it. This is similar to the color our neighbors painted their kitchen, and it looks great! I chose Behr Bicycle Yellow. It looks a little darker on the monitor than it actually is...it's a nice, sunny yellow.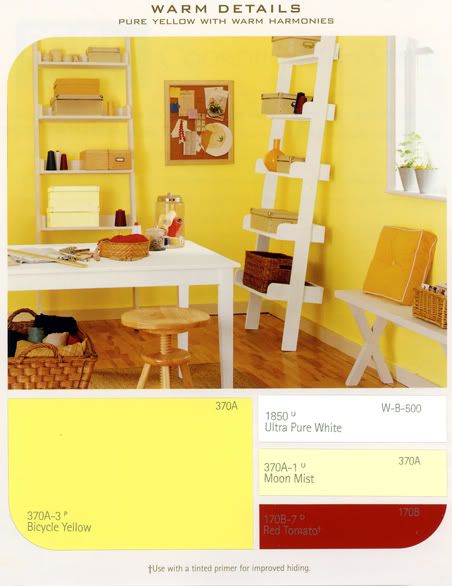 Chad said he might try to start moving stuff out of the room and paint, depending on what this storm decides to do, and if he has to start boarding up buildings in the park or whatever. I'll be sure to post photos when I'm all moved!